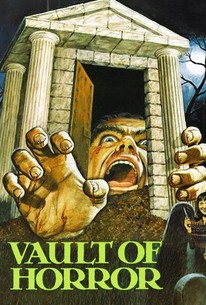 Vault of Horror
1973, Horror, 1h 27m
5 Reviews
1,000+ Ratings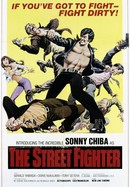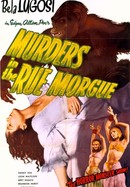 Murders in the Rue Morgue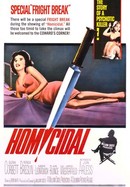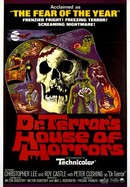 Dr. Terror's House of Horrors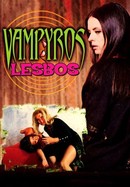 Rate And Review
Movie Info
Locked in a vault, five men swap stories of recurring nightmares in this anthology horror film based on the EC Comics series. In "Midnight Mess," Harold Rodgers (Daniel Massey) murders his sister to collect inheritance money, only to find her resurrected as a bloodthirsty vampire. A friend of Maitland (Michael Craig) buries him alive and leaves him to die in "Bargain in Death." The three remaining stories feature a magic trick turned deadly, voodoo mysticism and a twisted domestic dispute.
Audience Reviews for Vault of Horror
The sequel to Tales from the Crypt was all Hammer horror without the gore. It follows a similar premise as the first film to adapt stories from EC comics but unfortunately they had to tone it down for a PG with still images...

Otherwise known as the sequel to 'Tales from the Crypt' yet all the stories here bar one are from the 'Tales' comics. So it seems the 'Vault' comics short stories weren't good enough for a film? Again the simple premise is the same, a group of people in an elevator are taken down to the basement of a high rise block in London. Because they are trapped each of them tell tales of their worst nightmares (as you would do). From here on we get another five short spooky tales of which all in my opinion are really quite good. Up first is a basic plot involving a man going to a small village to kill his sister so he will get their recently deceased fathers estate. The village turns out to be a vampires nest and he is killed watched over by his sister whom he had just murdered. Second is merely about a pedantic man and his neat and tidy obsessions which drive his new wife so crazy she kills him. Third sees a magician and his wife observing a young Indian woman perform a rope trick whilst in India. The young woman will not tell or sell the secret of the rope trick so the magician and his wife kill the young girl, but revenge is short coming. The fourth story is about two con men who set up an elaborate insurance scam. One of the men fakes his own death and is buried alive as part of the plan but the second con man double crosses him and leaves him for dead. Unusual circumstances see the buried man dug up but fate has a final trick in store for both of the men. The final story shows us an artist who gains the power of voodoo in his brush hand whilst in Haiti. He then uses this power to enact revenge on some business men back in London who have lied and tricked him over the sale of his recent work. Overall every story here is a really neat little creepy tale mixing revenge, ghoulish graves, magic and vampires, the perfect blend. Much better than the first 'Tales' anthology in my opinion, the stories are more fun and mysterious making you use your imagination. I especially liked the eerie death for the magicians wife in the Indian rope tale. Again its an English film so we are treated to some more A class casting. This time you can see Tom Baker, Glynis Johns, Denholm Elliott, Terry Thomas and Curd Jürgens. There is no 'keeper' this time, although the comics had a keeper just like 'Tales', but the outlining premise of the wrap or frame story is the same, much like all horror anthology flicks. This really is a much better set of stories than the first film. More in line with other good anthologies like 'Darkside' and 'Twilight Zone'. There is a tad more blood and gore shown is this film too, not in your face but some nice hints, of course don't go expecting brilliant visual effects.

I really like Amicus' portmanteau films. This and 'Asylum' are great films and have a great atmosphere throughout. The fact that they are a little dated adds to their appeal and I love the fact that all those involved have a sticky end. The production values aren't bad considering they were made on a shoestring budget and it's interesting that at this time Amicus were producing more interesting films than their competitor Hammer. I must try and track more of these down. I wish they'd made an updated version with British talent today. Could be great.

The round table of terrible men telling what haunts their dreams continues in the second of the Tales From the Crypt movies. The strangest and maybe my favorite story is of the artist who uses magic to get revenge of the people who ripped him off because voodoo is his first line of defense. Voodoo! Who thinks of that? Well a guy with an afro ginger beard with evil intent.
See Details