They Live
(1988)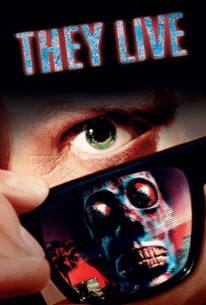 Movie Info
A homeless drifter discovers a reason for the ever-widening gap between the rich and the poor: a conspiracy by non-human aliens who have infiltrated American society in the guise of wealthy yuppies. With the help of special sunglasses that reveal the aliens' true faces and their subliminal messages ("marry and reproduce," "submit to authority"), our hero tries to stop the invasion. This satire of Reaganomics and the "greed is good" era also has one of the funniest (and longest) fight scenes in American cinema.
People Who Like this movie also like
News & Interviews for They Live
Critic Reviews for They Live
Audience Reviews for They Live
½
John Carpenter goes campy with They Live. Backed with a catchy tune for 90 minutes, They Live hilariously amuses with its sci-fi thriller style plot. The buildup is a little lengthy, but serves as a great contrast for when the sunglasses are on. Plot details are thin and under explained at times; however, the subject matter and characters make up for these shortfalls. The action is over the top and a brawl in an alleyway is excessively long, yet somehow it feels right at home in this picture. The visuals through the sunglasses is a delight when compared with the so-called real world view. Roddy Piper is a hoot and Keith David steps in as a successful partner in crime. Those two alone are enough to make this film work.< They Live steps out of the norm and unveils reality. Worth a check out.
Probably one of the most overlooked and underrated films by Carpenter yet possibly his most clever. All his own work and a quite beautiful look at how paranoia and fear within an ever decreasing economy can be exploited for a good story. Now I'm not saying all Americans are suspicious conspiracy theory doom mongers but this film exposes that ever present trait whilst also scratching at the notion of constant gross consumer consumption, greed and subversive subliminal messages touching on hypnosis and domination. To be honest the whole idea just shows how some Americans (including Carpenter) think most of the time, always looking over their shoulder and suspicious. As for the film its a romp that just keeps going and you wanna know how it ends. The start is slow and dull, it takes time to get going but once Nada finds the sunglasses of truth things get really interesting in a good way. I love how Carpenter made this film, its dated but still looks great as it has that nice B-movie look which is mainly down to the budget. Think of it as an unintentional result that happens to fit the whole films concept perfectly. Classic 50's alien B-movie fluff enhanced with time. The whole idea is really very clever and imagined so well. We see the alien corrupted world controlling the now unaware obedient humans in their daily lives through the black and white shades Nada finds. Without the shades the world appears normal, an illusion created to blinker or fog human eyes. The aliens only appear when the shades are on and boy do they look creepy. Even though its obviously a simple mask the makeup and design is superbly created and really gives an eerie effect. That skeletal skull look with those quite scary eyes! I have always been surprised with the great performance by Piper also. The guy was a WWF wrestler at the time for Gods sake yet his acting here is great, just perfect. He really carries off the suspicion and awakening of the story to a tee. As for his character of Nada...all I can say is the guy certainly has an element of Jack Burton if you ask me. 'I have come here to chew bubblegum and kick ass...and I'm all out of bubblegum' I also like how this film isn't predictable. It keeps you guessing and you're never sure how it will end or who will survive. The subtle political jabs, crazy ass humour and out n out action is a curious blend but like Carpenter's 86 film 'Big Trouble in Little China' he manages to pull it off with ease and create another cult on his filmography. A great comicbook tale of mindless media/advertising supremacy on an Orwellian alien monitored Earth. 'Brother, life's a bitch... and she's back in heat'
Phil Hubbs
Super Reviewer
½
"They Live" is one of those films where you can recite all the negatives about it with ease. Bad acting, subpar special effects, clunky dialogue, heavy-handed plot all should add up to a horrendous film, but as any connoisseur of film knows "They Live" is one of the most admired B-movies (or cult films) to come out of Hollywood. That's because "They Live" has its tongue firmly planted in cheek. Despite John Carpenter's attempt to tell a very important story and deliver a very important message he does it in such an absurd way that there's no opportunity for "They Live" to let that potentially heavy-handed plot to feel ponderous to get through. Does the message leave much of an impression post-viewing? No. But this mix of sci-fi and horror is easy to enjoy. It's a simple premise and after the plot kicks in, it's all about destroying any ugly-faced alien no questions asked. Then you have the presence of one of the most nonsensical and infamous fight scenes you'll see. Roddy Piper and Keith David fight for five minutes for no reason other than a pair of glasses. There's no rational reason why the two of them are beating each other up but they keep fighting and keep fighting. But in this film, that's OK. There's also dialogue written with the 80s penchant for funny, out of nowhere one-liners. The most infamous for "They Live" being "I have come here to chew bubblegum and kick ass... and I'm all out of bubblegum." Both the fight sequence and the line of dialogue have been homaged and referenced in numerous entertainment vehicles such as "South Park" and Duke Nukem games. "They Live" is one of those films you've gotta see if you appreciated B-films in any way. It's a great example of how to walk that line between serious and absurd and walk that line perfectly.
Tony Gandía
Super Reviewer
They Live Quotes
| | |
| --- | --- |
| John Nada: | Either put on these glasses or start eating that trashcan. |
| | |
| --- | --- |
| John Nada: | It looks like you dipped your face in the cheese dip back in 1957. |
| | |
| --- | --- |
| John Nada: | Thats like pouring perfume on a pig. |
| | |
| --- | --- |
| John Nada: | I have come here to chew bubblegum and kick ass - and I'm all out of bubblegum. |