Trekkies 2
(2004)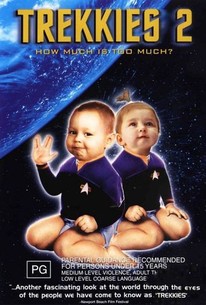 AUDIENCE SCORE
Critic Consensus: No consensus yet.
Movie Info
True love for science fiction knows no borders, and now the people who brought us Trekkies return to travel the globe in hopes of finding the world's most dedicated Star Trek fan in this belated sequel to the 1997 cult documentary. Once again hosted by Star Trek: The Next Generation's Denise Crosby, Trekkies 2 features interviews with such dedicated fans as the English Trekkie who reconstructed his Leicestershire apartment to resemble the interior of the Starship Enterprise, numerous Filk (science fiction-oriented folk music) singers and Star Trek tribute bands, and also offers coverage of the first-ever Serbian Star Trek convention. Of course, a sequel wouldn't be a sequel without the return of a few fans from the original hit, and Trekkies 2 offers follow-up interviews with such memorable devotees as Gabriel Köerner and Whitewater juror Barbara Adams.
Critic Reviews for Trekkies 2
All Critics (4) | Fresh (3) | Rotten (1) | DVD (6)
the first one was enough, however, it's still interesting
July 5, 2008 | Rating: 3/5
It's hard to quibble with the patronizing attitude taken by Nygard's films.
[R]ecognizes that [Trek fans are] a lot more clever, creative, self-aware, and generous than the uninitiated will have realized...
Audience Reviews for Trekkies 2
½
Sequel to Trekkies is a good follow-up, but lacks the amusing qualities that made the original interesting. I felt that with this sequel, they revisited the same subject, without adding anything really new or interesting. Sure there were news aspects in some places, but Trekkies 2 falls short in terms of a sequel. Nonetheless despite its flaws, I did enjoy the film but felt it could have been much better as well. This is nonetheless a worthy watch for Star Trek fans. Some things presented here, much like the original takes a look at the somewhat extreme fandom of Trek fans. I never really was a Trek fan, but it surprises me to see such dedication just for TV show. This will certainly appeal to fans of the original. The film could have been done better, but it elaborates more in terms of the fandom of Star Trek fans as well. The film is an average documentary and is quite forgettable. Nonetheless it is entertaining to see the fans of the show talk about why the franchise and how much it means to them. Although this sequel is good, I much preferred the original, and I felt that at times it recycled a few aspects of the original Trekkie. Worth checking out if you're a fan of the series and the first film. Trekkies is entertaining and worth seeing if you've enjoyed the first, but it lacks something to really make it a standout documentary. Trekkies 2 is worth seeing if you're curious about the Trek fandom that has gone on since the Gene Rodenburry original series, and though at times a bit extreme, you have to understand how much a series means to certain people. With that being said, it's always good to see someone dedicate themselves to something positive. Although flawed, it's worth seeing, but Trekkies was better.
½
A weak followup to the respectable Trekkies of 1997.
Randy Tippy
Super Reviewer
½
Not nearly as good as the first one but still enjoyable.
James Alvarez
Super Reviewer
Trekkies 2 Quotes
There are no approved quotes yet for this movie.