Tricky Life
(2002)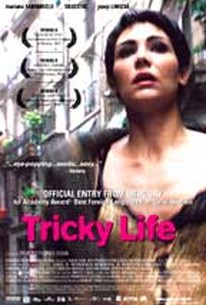 AUDIENCE SCORE
Critic Consensus: No consensus yet.
Movie Info
Elisa, 27, dreams of opening her own hairdressing salon in one of Montevideo's rich districts. A bit of a rebel, Elisa moves out of her mother's house with her two children. The next day she breaks up with García, her boss and lover. He's found every way possible to avoid the subject of marriage and Elisa has lost patience. So, in the space of twenty-four hours, Elisa finds herself without a roof over her head, without a man, without a job and without money. Her best friend Loulou finds her a job - in the brothel run by Doña Jacqueline. And without really being aware of it, Elisa slides into prostitution.

She meets Placido, called 'the face', who has his deals established between Spain and Uruguay, and falls in love with him. Elisa lets him in on her plans and she can convince him to take Loulou and herself to Spain with him. Her plan is to come back home after a year and to fulfil her dreams with the money made. But reality's different. Barcelona turns out to be a swelter. First she throws herself into the new 'job' but only to realise slowly that she's being exploited and that she's paying a high price. A gang war between Uruguayan prostitutes and Brazilian transvestites doesn't make life easier and the investigating police officer Marcello keeps zooming in on Placido who in turn tightens the leash on her.

When a Brazilian transvestite is killed, the police arrest Placido and his friends and Elisa is without a job, a home and shelter for the second time. But she gets officer Marcelo to release Placido by blaming the Brazilians. Soon later, her friend Loulou is murdered and she learns that her kids back home had been sent to a child's care because Placido didn't pay the maid. This is too much for Elisa, she turns Placido in and testifies against him in a trial that turns him in on a long term sentence.

Elisa returns to Uruguay with Marcelo where she is held up at the airport because of fake documents. And for a brief moment it looks like 'La Puta Vida' continues... but Marcelo eventually gets her out of this pit-hole because he can convince the Spanish ambassador to interfere. Elisa becomes a celebrated media star and finally finds her children back in her arms - and Marcelo is left to return to Spain...

Beatriz Flores Silva's sexy tragicomedy 'Tricky Life' cleverly blends South American soap with a determination to expose the wrongs inflicted on women; but her film centres on Elisa's search for happiness, security and independence, against a backdrop of the melancholy rhythm of the tango and the typical excited, unbridled dialogue. -- © Bavaria Film International
Critic Reviews for Tricky Life
All Critics (3) | Top Critics (2) | Fresh (3) | Rotten (0)
Never less than involving thanks largely to a spirited lead performance by Mariana Santangelo.
July 27, 2002
Tricky Life is a melodrama with a message, gloriously lurid and atmospheric, seething with Latin passion and -- clearly -- deliberately devoid of subtlety.
The basic material is overly familiar, earnest-girl-duped-by-smooth-talker stuff, but the contrast between style and subject give it a fresh feel.
February 1, 2002
Audience Reviews for Tricky Life
There are no featured audience reviews yet. Click the link below to see what others say about Tricky Life!
Tricky Life Quotes
There are no approved quotes yet for this movie.