Twice Told Tales
(1963)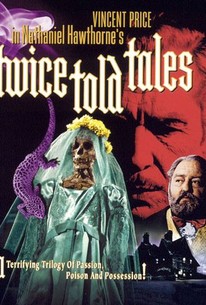 Movie Info
Vincent Price stars in this trilogy of horror based on the stories of Nathaniel Hawthorne. "Dr. Heidegger's Experiment," "Rappaccini's Daughter" and "The House of the Seven Gables" are all included, stories of murder, ghosts, romance and strange magical potions.
Critic Reviews for Twice Told Tales
Audience Reviews for Twice Told Tales
Vincent Price in three Nathaniel Hawthorne stories: a doctor discovers the secret of youth (and more); a student falls in love with a girl who literally kills anything she touches; a cursed man tempts fate by trying to take back an ancestral treasure from a ghost. Interesting tales, though the first two are a bit stagey and more science fiction than horror.
Price takes a break from doing Poe based movies, and does this anthology horror movie based on Hawthorne stories. It's good, although slightly boring once in a while. I still enjoy it, and if you like Price, you'll want to see it too.
Twice Told Tales Quotes
There are no approved quotes yet for this movie.