Wonderful Days
(2004)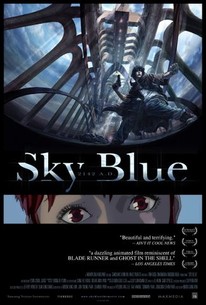 Movie Info
South Korean filmmaker Kim Mun-saeng directs the animated feature Wonderful Days (also known as Sky Blue). In the year 2142, the Earth's ecosystem has finally given over to overbearing levels of pollution. The popular masses live in a dark and dingy world under perpetually grey skies while a select few live in a beautiful city called Ecoban. The city's elite enjoy relative comfort in a environment that is fueled by carbon pollution and generates even more waste matter. When Ecoban security officer Jay discovers her leaders plotting an evil scheme, she begins to doubt her place in it. Meanwhile, her childhood friend Shua is leading a secret rebellion of the masses. He is helped by Dr. Noah, a scientist who originally designed the city. They plan a major attack on Ecoban's power grid, the Delos System. Wonderful Days was shown at the 2003 Cannes Film Festival and the 2004 Sundance Film Festival.
Critic Reviews for Wonderful Days
Audience Reviews for Wonderful Days
I used to be a big fan of anime when I was younger but I gradually fell away from it and moved onto different styles as time went on. I never stopped liking it, I just didn't seek it out anymore. When I heard of this though, I decided to delve back into it. Unfortunately, this effort didn't reignite my interest. In 2142, mankind's ecological rape of the planet has sparked a global catastrophe, with survivors living within Ecoban, a city whose energy is provided through the exploitation of proletariat 'diggers'. Jay (Catherine Cavadini), a young female trooper, must decide where her loyalties lie when her friend's actions threaten to destroy Ecoban... but possibly save the planet. Very impressive animation is let down with a seriously dull storyline. In fact, I struggled to see this film to the end, it was so painfully boring. On paper it sounds good and on screen it looks superb but the pace is all wrong and ruins what could have been something special. Diehard anime fans may find plenty to enjoy from this and I enjoy a good animation as much as anyone, but this did not hold my interest in the slightest. There's no denying the beautiful animation but it's wasted and no matter how good it is, it can't save such a borefest. If left on the television, in the background, with the sound turned down while you attend to some household chores it may serve some purpose - much in the same way that an eye-catching fish tank will. As entertainment though? It's seriously lacking.
Mark Walker
Super Reviewer
Aw this is pretty good animation with a very noticeable clash of good vs evil from the two lead characters. Recommended.
Alexander Wilson
Super Reviewer
Wonderful Days Quotes
There are no approved quotes yet for this movie.