Yureru (Sway)
(2006)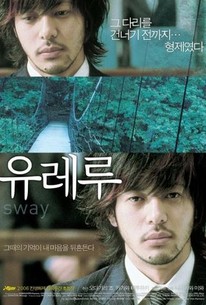 AUDIENCE SCORE
Critic Consensus: No consensus yet.
Movie Info
A murder investigation reveals a deep-rooted sibling rivalry in director Miwa Nishikawa's brooding family drama. On the one-year anniversary of his mother's death, Tokyo art and fashion photographer Takeru (Joe Odagiri) returns to his small hometown in order to pay his respects. But all is not well back home, and when Takeru's authoritative father questions his sincerity, the frustrated son strikes back with accusations of violent conduct. Though the situation is initially diffused by Takeru's older brother Moniru (Teruyuki Kagawa), who stayed behind to run the family business, tensions once again start to run high when Tekeru, Moniru, and pretty childhood friend Cheiko (Yoko Maki) decide to celebrate their reunion by taking a hike in the wilderness. Tragedy strikes, however, when Takeru wanders off to photograph the landscape while Minoru and Cheiko get into a heated argument on a suspension bridge. After rejecting Minoru's advances, Cheiko falls to her death. Takeru saw nothing, and though Minoru claims responsibility for Cheiko's death the authorities still launch a full investigation. With the evidence against Minoru mounting, it quickly becomes apparent that the older sibling is deeply resentful of the fact that he was forced to remain at home with his overbearing father as Takeru departed for Tokyo and began living the good life. Cheiko's rejection was simply the last straw for Minoru, who subsequently rejects his brother's help and places himself at the mercy of the powers that be. ~ Jason Buchanan, Rovi
Critic Reviews for Yureru (Sway)
All Critics (1) | Top Critics (1) | Fresh (0) | Rotten (1)
The promises of depth and artistry subtly evident in the opening scenes of helmer Miwa Nishikawa's Sway prove to be fleeting elements to basically an overlong courtroom trial drama.
Audience Reviews for Yureru (Sway)
How selective is our memory? What this selectiveness says about ourselves? Minimalist. Groovy. Beautifully subtle movie.
Rubia Carolina
Super Reviewer
An emotional examination of two brothers after their mothers death. Once a love rival comes between them things go from bad to worse. It's a slow paced and thoughtful film that really gets to the core of its characters. Unfortunately it also goes a bit too deep with some motivations spelled out with metaphors in dialogue that just repeat the visual motifs. At some points it also goes from slow paced to stalling, becoming a bit of an effort to get through as opposed to a introspective treat. Some excellent performances and subtle camera work keep interest for the most part.
Luke Baldock
Super Reviewer
Yureru (Sway) Quotes
There are no approved quotes yet for this movie.