B: The Beginning: Season 1
(2018)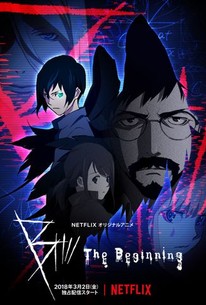 Rate And Review
B: The Beginning: Season 1 Photos
News & Interviews for B: The Beginning: Season 1
Audience Reviews for B: The Beginning: Season 1
This was a refreshing change from other animes and the 2 storylines running at the same time was great.

Solid 90%, in the context of what actually exists in the world. In terms of standards of idyllic possibilities probably 80% +/-. Sorry that it took me so long to discover this especially since its better than the bulk of anime that has come out in recent years, Netflix or otherwise, and probably top 5 Netflix anime properties (I think with this I have seen all NOS anime). So I ended up thinking it was pretty great and was retroactively confused about its ratings and reception. Maybe it is low expectations that kept me from starting it and set me up for appreciating it, but conversely I think a few factors for this also set up people for under-appreciating it. 1. Bafflingly, the trailers misrepresent it as a cat and mouse, catch a gruesome, psychosexual serial killer who keeps getting away with gruesome psychosexual murders murders. Not something that I am attracted to or appreciate unless it has something genuinely, exceptionally amazing to offer. But this isn't what the show is at all, and... 2. ...if the trailers are what attracted you to the show you are destined to be disappointed even if you also like the actual genre of the show which will necessarily impact your rating and opinions, and... 3. ...personally, I didn't know in 2018 that the nightshade of putridness had become a disingenuous ticket-generating machine for its owner and that 50% critic score is as meaningless as 100%, so the low scores also kept me away. About the only thing accurate from the trailer is that the serial killer and detective referenced are important characters. The rest of the genre picture that the trailer and the synopses are painting is immediately undone in the first episode. More accurately this show is an alternate history near-future containing preternatural human analogues pulling strings of an intricately machinated conspiracy for carrying out...TBD. Plot is compelling and engaging, with mythology that is admittedly a little thin but interesting enough and functional and world-building and backstory are good to very good. Animation and music are totally competent and with the preponderance of shows and anime in particular that dump energies into occasionally successful artistic expressions at the expense of quality plot and characters I will gladly take the trade- off. The characters on the show are cogent, plausible personalities with consistent actions and motivations which is a minor miracle among most anime. (small exceptions for one character that for plot reasons has to be intolerable when interacting one specific other character, and also a clueless old fuddy duddy archetype who is just standard. The anti-social genius is genuinely anti-social and while it would take actual geniuses to write or truly appreciate actually genius characters his specialness plays out in in convincing and important ways. That's a major miracle in the context of all the shows purporting genius characters who are transparently the result of writers who are vastly ignorant, actually stupid or merely bad at their job of writing and counting on profoundly ignorant passive consumers for their audience. If the world of anime was as overfilled with superlative exemplars like the world of literature in general then this might not make the cut. But if you like anime and the genre this one of the very best you will find.

Lost my initial review having to confirm my email, since I'm making this account to submit this meaningless review. And since It's not worth retyping it, here's a summary: This was some super edgy, over the top with predictable clichés (especially troupes), absolute garbage of a show. Not even worth being background noise. Having seen over 500 anime shows, there are now only two I absolutely dislike (this one and "Aldnoah.Zero"), which sure says something about it being a 2018 show and all. What drove me to watch it all was because I have been checking out every Netflix original anime series. Each one before this one has so far been from decently enjoyable to epic. Then with this poorly done trash... Again, not worth redoing my whole opinion. Poorly done show with just BS concept after BS concept, with little to no explanation/background on any of it, being stacked to feign some kind of random plot. That's the gist of it.

Love this show can���t wait for season 2

honestly, this is one of the best animes I've watched in a while. the way it blends the two story lines together, while still keeping them as their own stories. and the fight scenes, jesus christ, the fight scenes. succinct and startlingly beautiful. the whole show is just beautifully animated, with a beautiful score and a beautiful story.

Good animation, good fight scenes. The story could have been amazing but it feels not fully thought out

A promising start unfolds into a cliched, disjointed ending that resolves nothing.

Great the animation, characters, music, and atmosphere. The plot was a little lose this time around, but they clearly made a strong effort and i'm sure the studio will do better next time. Overall a dark edgy, and fresh show with a lot of heart.

Great production quality, gripping magical realism storyline. On par with live action police procedurals.

The ending is one of my favorites in all of anime. I had no idea what was going to happen, because with this show, anything could have happened. I'm glad it ended the way it did. Also, the animation was perfect, and the ending theme song is going straight to my playlist. One of the best anime I have seen in a while.