Sense8: Season 2
(2016 - 2018)
You might also like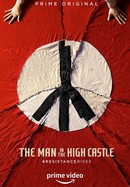 The Man in the High Castle
Rate And Review
News & Interviews for Sense8: Season 2
Audience Reviews for Sense8: Season 2
Best show ever produced by Netflix.

amaizing!! i want to see more

Just slightly better than season 1, but overall, I'll repeat the same review. Great story with a lot of potentials, but very badly executed. Too many mistakes and flaws in the structure of the story.

So well done... the heros and villians were terrific. The sense-sates were each incredible. Each had a powerful story to tell and did a terrific job portraying there issues. The brilliant images were so well incredibly stimulating....

Season 2 of "Sense8" is far superior to season 1. In fact, I suggest you skip season 1 entirely. Read a synopsis of season 1, then go straight to season 2. The first season gives you about 5 minutes of plot for every three hours. The rest is meaningless music videos, dear-diary sex tapes, and foolishness. Season 2 has a few too many sex encounters that do NOTHING to advance the plot and too much musical interludes, but at a reduced rate compared to that garbage first season. I still didn't care about the Hindu princess, the silly Mexican actor, or the German gangster wannabe, but at least the plot actually kicked into gear in the second season. Season two has the action. It was worth watching. Skip season one entirely.

An incredible story with incredible characters! There are no words, the plot is amazing.

Touching and exciting. Awesome photography. An anthem for brotherhood and love of diversity.

This show is great, season 2 even better than season 1.

This is a review of the show as a whole rather than just this season. I have to say I was left disappointed. There was an interesting sci-fi story here but I felt the show was unsure what it wanted to be - a sci-fi thriller or a drama about disparate individuals brought together by an inexplicable force (think Outlander where a fantasy element was used to throw our heroine back in time but from then on it was pretty much just a drama). Trying to be both made for a frustrating watch as the interesting sci-fi drama was constantly pegged back in the name of the individual dramas whereas I felt that the show should have been interweaving these stories around the sci-fi narrative and making that the main focus of the story. It is telling that Will, who advanced the overall story, was my most favourite character. It was painful watching the fan campaigned final episode, where so much was crammed in, that could have been beautifully played out over the two seasons they had. Like another reviewer commented, it's not a surprise that this was cancelled, as its unnecessary filler scenes and its lack of narrative certainty dragging it down. However, its last episode was a worthy lesson in showing that a wrap up episode to a cliffhanger cancelled series does not heal all wounds, in fact it may have been better just to have left it alone. Should Netflix wish to continue to unceremoniously wield their axe, then perhaps they should stop and take note that ending seasons on cliffhangers is a bad idea even if it's the better creative one.

It's fantastic. Don't expect a fast paced generic sci-fi action show though, it has action sequences but it's about the character's lives and connections. Expect a queer aesthetic (and storylines), life-affirmation and some dancing and orgy sequences, too. Watching this show never fails to make me feel good.