The Fan
(1996)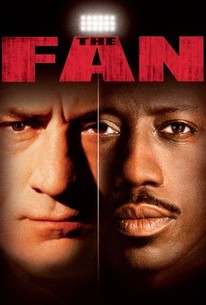 Movie Info
Gil is an obsessed baseball fanatic whose favorite player is Bobby Rayburn. When Bobby signs a contract with the San Francisco Giants, his batting and field averages drop. Gil decides to kill Bobby's rival and then insinuate himself into Bobby's life. Now Bobby's nightmare begins.
People Who Like this movie also like
News & Interviews for The Fan
Critic Reviews for The Fan
Audience Reviews for The Fan
Psychological thriller...cast De Niro...check, give him lots of chances to grimace and stare down his nose at the camera with his trademark uncomfortable look of disgust...check. And that about does it for all the requirements needed to make a good thriller about a nut job. A slick thriller directed by the camp Tony Scott. Yes it has all his flashy nods like plenty of rock n roll tracks, fancy lighting and glossy sequences but at the same time its very insightful. The whole idea of looking into the obsessive, delusional almost addictive human behaviour when it comes to sports and a mans love for the game. De Niro is a knife salesman, right off the bat that doesn't sound like a sound occupation. He has a stressful time with his ex-wife who's trying to keep him away from his son, he loses his job and to top it all the new major signing for his fave baseball team is playing badly. And he really likes this new player. The problem is De Niro's character has an over the top obsessive love of the game, his home team and the new star signing. He thinks he can change their fortunes almost, he used to be a player so he thinks he knows everything and how players should play, he gets easily carried away at games, easily upset, disappointed with the results and performances he's seeing and basically starts to lose it. Of course this is all perfect for De Niro as portraying a man on the edge, a kooky lunatic slowly growing more and more angered with his situation is right up his alley. The way we see him with his son at the game shouting profanity at the field and the people around him, getting more and more agitated and scaring his son. Its really quite uncomfortable to watch and makes you feel almost sorry for him whilst at the same time kinda awkward or embarrassed. I'm sure many of us have seen real people like this at real games, it can be a nasty situation if it developes into something further. De Niro nails this beautifully with his famous scowls and 'you lookin' at me' looks. The story here is of course exaggerated and goes to a much darker place, although I'm very sure there are folk out there that are this crazy about their sports. Maybe not to this degree though. It doesn't feel too realistic though as De Niro's character seems able to get close to these big time sluggers very easily, at bars, in the stadium, at their personal homes, in gyms etc...surely it would be hard to do this generally. The way he manages to confront Del Toro's character and do what he does, plus get away with it, is also pushing the boundaries of believeability. The fact De Niro's character is a knife salesman seems a bit forced also, that's like 'what's one of the most dangerous yet easily assessable/concealable things a salesman could sell without raising much suspicion and use effectively to kill'. Would be too obvious if he sold guns. It kinda gives the game away straight away about what he's gonna do doesn't it. The whole development of the story is really predictable if I'm honest, you can see what's gonna happen a mile off and De Niro has done this type of role a few times before. But its De Niro's acting that keeps you hooked plain n simple. Its all about De Niro (trying not to say his name in every sentence here), Snipes does a solid job as the big shot new signing with the weight of the world on his shoulders but you watch for De Niro's psycho. The film is covering old ground a lot really as we've seen Snipes do all this before also in 'Major League'. Thing is you feel for De Niro's character at the end, he's just a guy trying to be with his kid, teach him about his love for the game of baseball whilst maybe having a shot at his dream too. He's not a bad guy really, he didn't intend for it to happen the way it does, he's almost forced down that route by circumstance and people's attitudes. End of the day you can see both sides of the coin for the two main characters. These big players wouldn't be where they are without the fans, none of the team would be, so the players do have to play for the team and for the fans, they owe it to the fans to do their best and show appreciation for their support. On the other hand a player should ignore everything that goes on with the fans because as Snipes' character says, when you're hitting they love you, when you're not they'll spit on you, the fans are a fickle bunch. So yes a player should really play for himself to a degree, do what he thinks is best and strive to achieve his own goals, but you will always need the team, two sides.
Phil Hubbs
Super Reviewer
½
Cliche, by-the-numbers, etc etc.
Tsubaki Sanjuro
Super Reviewer
½
De Niro is an obsessed Baseball fan, whose love for the game, sees him doing unbelivable things to meet his sporting hero. This doesn't seem to be one of De Niro's more popular films and admittedly it's not at the top of De Niro films, but I think it was a pretty good performance, we see him go from your ordinary guy to psyhcopath in a short escalating time. The film does have slightly drawn out moments but is a passible Thriller.
Lady D'arbanville
Super Reviewer
The Fan Quotes
| | |
| --- | --- |
| Gil Renard: | Gil Renard: Don't get greedy, son. Don't get greedy. What we need now is a sacrifice. A winning team has to know how to manufacture runs. Coop taught me that. He used to say the most beautiful play in the game is a sacrifice fly, and you know why? Richie Renard: 'Cause you give yourself up for the team? Gil Renard: And it doesn't even count against your average. That's why baseball's better than life - it's fair. |
| Gil Renard: | Don't get greedy, son. Don't get greedy. What we need now is a sacrifice. A winning team has to know how to manufacture runs. Coop taught me that. He used to say the most beautiful play in the game is a sacrifice fly, and you know why? |
| Richie Renard: | 'Cause you give yourself up for the team? |
| Gil Renard: | And it doesn't even count against your average. That's why baseball's better than life - it's fair. |