Above the Rim
(1994)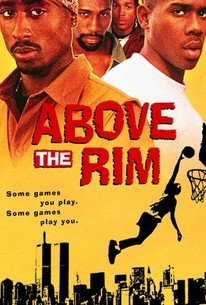 Movie Info
A young aspiring professional basketball player must make some tough decisions in this sports melodrama. Kyle Lee is a talented basketball player in high school. While he waits to find out if he will receive a scholarship to Georgetown he finds himself in a difficult dilemma over a playground basketball tournament. He must decide whether to follow his good-hearted coach or Birdie, the local gangster. Kyle is also feeling resentment for the security guard his mother is falling for. The coach also wants the guard to play, but due to the tragic death of a friend, the guard cannot bear the thought of playing again.
Critic Reviews for Above the Rim
Audience Reviews for Above the Rim
Very cliched and dated gangster/basketball flick set in NY as a young black teen tries to get a basketball scholarship whilst battling against a local thug and his former basketball star brother who is now a security guard at their high school. Everyone in this film is a walking cliche. Shakur is yet another gangster (he couldn't do anything else...useless), Wayans is annoying and camp as usual, Duane Martin is the annoying loud mouth cocky star player and Leon is the quiet dark horse and probably the best thing in the film. Basically you have all the usual gangster nonsense with all the hilariously bad street clothes worn by Shakur and co. Lots of foul language dodgy deals guns drugs and various adults trying to get these dumb asses to grow up and get a life. Looking back now this movie does seem extremely predictable cheesy and stereotypical, hell the movie is virtually racially profiling these guys from the outset. Thing is back in the day these movies were popular and deemed fresh gritty realistic stories from the hood, showing the middle/rich classes life on the street and how blacks youths were badly treated. To me these movies only tended to damage minority groups, giving young blacks a bad reputation. Sure its only a movie but there were so many like this back in the 90's and most revolved around crime drugs and shootings. But hey that's just my thoughts, maybe I'm a bit out of touch too. The only decent thing in the whole film is the small segments of basketball and the competition at the finale which does show some good genuine skills. Only at the end does this movie really come alive...and it reminded me a little of 'White Men Can't Jump' minus the goofy comedy.
Phil Hubbs
Super Reviewer
The Hardest Part Of Winning Is Choosing Sides. Saw it again! One of the best basketball movies you will ever see. The story is superb and the basketball moves are spot on, no fakes here, this is as real as it is. Great cast and the acting was very strong and realistic. Story of Kyle-Lee Watson, a promising high school basketball star, and his relationships with Birdie, a powerful drug dealer, and Birdie's brother, Thomas 'Shep' Sheppard, himself once a promising high school star at Kyle's school, now employed as a security guard.
½
too ghetto, but i actually find tupac to be a fantastic actor
Above the Rim Quotes
There are no approved quotes yet for this movie.