Coming Home
(1978)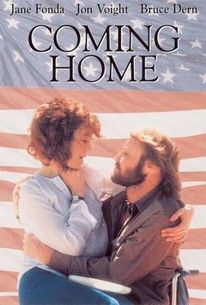 TOMATOMETER
AUDIENCE SCORE
Critic Consensus: Coming Home's stellar cast elevates the love triangle in the center of its story - and adds a necessary human component to its none-too-subtle political message.
Movie Info
Coming Home is an unsentimental but heartfelt study of the plight of the wounded Vietnam vet. In 1968, Marine Captain Bob Hyde (Bruce Dern) leaves his wife Sally (Jane Fonda) behind when he's called to combat. Sally wants to do her part for the war effort, so she volunteers to work at a local veteran's hospital. Here she meets Luke Martin (Jon Voight), who is paralyzed from the waist down. Their friendship eventually blossoms into love, setting the scene for a climactic confrontation with the returning Capt. Hyde, who though physically intact has been emotionally ruined by his war experiences. Coming Home secured Academy Awards for Fonda, Voight, and scripters Waldo Salt, Robert C. Jones and Nancy Dowd (who wrote the original story upon which the film was based).
Critic Reviews for Coming Home
Audience Reviews for Coming Home
This wasn't the first film to deal with the issue of soldiers coming home after war, and trying to transition back into a "normal" life, but it was one of the earliest to deal specifically with the subject in regards to Vietnam, as well as the first film to tackle the issue of sex and disabilities. Despite the good subject matter and plot, since Hal Ashby is at the helm, you just know that it is primarily going to be a character driven piece that mostly leans to the left, though the movie isn't completely one sided. The main plot focuses on a woman named Sally whose Marine Captain husband gets shipped off to Vietnam. Feeling lonely and bored, she decides to volunteer at a VA hospital, and while there she develops a strong relationship with a former classmate who got wounded in the war, and is now a bitter, angry, and disillusioned paraplegic trying to get his life back together. When Sally's husband returns home, also wounded, the impact of the war, and the love triangle comes to a boil. and the full effect of everything comes to a head. So yeah, this isn't the most original movie, but it is a well made and thoughtful melodrama anchored by some strong performances and Ashby's knack for good character pieces. It really didn't teach me anything I didn't already know, and it is a bit slow at times, but I still think it is a worthwhile film. Maybe I'd be more impressed had I seen it earlier, or before I saw The Deer Hunter and Born on the Fourth of July, which tackle the same issues in far better ways. The soundtrack is pretty good, with lots of tunes from the Rolling Stones, as well as other great, albeit typical songs from the time period. Some of the transitions and editing with the music were rather abrupt and jarring, but not enough to make me lessen my rating too much. All in all, a good, if overrated take on the various damages that war can have on people from all walks of life.
Chris Weber
Super Reviewer
½
It's hard to divorce this film from its context, namely some considered Fonda's anti-war activism to be ... "un-calculated" would be a nice word ... if it were a word. Out of that context comes this thesis-driven film that puts the anti-war message in the mouths of the soldiers who know the war best. But Fonda's character remains fairly apolitical; she is not given any rousing speeches about giving peace a chance, and her character is not reduced to the depths that Dern's is. And for that reason, among others, the film wreaks of misogyny. Sally (Fonda) is confined to the role of the helper. Beyond the anti-war message, which glares through every frame, this is a classic story of a man saved by the love of a good woman - a good woman who, by the end of the film, is all-too-willing to provide the same service for her estranged, openly misogynistic husband. Female sexuality is portrayed in an equally reductive fashion. Throughout Sally's first orgasm, the most prominent sight is her wedding ring, constantly reminding us that whatever pleasure she feels is a violation of sexual mores. Though I don't blame the film for its anti-war thesis, it is open season on its reductive view of women. What is more, the film "feels" unbalanced to me. The heavy moments are too heavy, the light moments are too light, and the connective tissue between them is almost non-existent. So, why 2.5 stars? Because Dern's and Voight's performances are astounding. Dern scores a ten the Christopher Walken Creepometer, and Voight's ending monologue made my eyes leak. It is unfortunate that such work wasn't in service of a better script.
Jim Hunter
Super Reviewer
½
I have to say that the reason that I like this movie is the filmmaking is so right on in every aspect. The cinematography, editing, and acting are all top notch and it carried me through the script which, at times, I thought was mind-boggling bad. Jon Voight and Jane Fonda give their best performances (that I have seen) and make every scene believable with realistic performances which I attribute to the direction of Hal Ashby. There is also the incredible Bruce Dern who gives an outstanding performance as Bob Hyde. The reason the movie irks me is the anti-war stance which works on some levels (the ending of this film is genius) and then totally distracts on other levels (the scene between Dern, Fonda, and Voight at the house with the gun is ridiculous and the whole FBI sub-plot is just plain dumb). I will give Ashby this, that he provides a world that you never know what is going to happen next which is rare. I enjoyed the film for the filmmaking experience, but otherwise, thought it was the love story is a little thin considering that she chose the hottest guy in a wheelchair.
Coming Home Quotes
There are no approved quotes yet for this movie.