5 Fingers
(1952)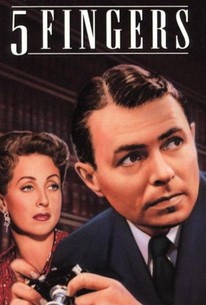 Movie Info
Based on a true story, 5 Fingers stars James Mason as a man known to his superiors only as Cicero. Ostensibly the valet of the British ambassador to Ankara during World War II, Cicero is actually a Nazi agent. He holds no particular political viewpoint: the Nazis offered the best price, so for the time being he is loyal to them. Falling in love with the beautiful Danielle Darrieux, Cicero uses her home as a contact point to meet his German associates. At great personal risk, Cicero secures secret British war files and smuggles them to the Germans; they find the information in the files too far-fetched to be taken seriously--and thus are caught unawares on the morning of the D-Day invasion. An ironic coda finds Cicero, setting himself up in luxury in Rio de Janeiro, double-crossed by both Darrieux and the Germans. What else can he do but laugh uproariously? 5 Fingers, based on the memoirs of the real-life "Cicero" L. C. Moyzisch, was adapted into a 1959 TV series, wherein the antihero was converted into a 100% good guy. ~ Hal Erickson, Rovi
Critic Reviews for 5 Fingers
All Critics (5) | Fresh (5) | Rotten (0) | DVD (1)
This espionage thriller noir keeps us guessing as to who will betray trust to cash in his chips and Mankiewicz features some tense sequences, the highlight of which is Diello's attempted last score, almost undone by a cleaning lady...
Mankiewicz's sharply observed Oscar-nominated espionage thriller is superlatively played by James Mason in the lead role of Cicero, the smart spy who operated within the British embassy in Turkey during WWII.
Mason's chilling performance makes the film a special treat.
Audience Reviews for 5 Fingers
5 Fingers is a great thriller on a par with Hitchcock's Diplomatic Immunity. One of the best early depictions of spycraft smack dab in the middle of the Cold War.
John Ballantine
Super Reviewer
5 Fingers Quotes
There are no approved quotes yet for this movie.