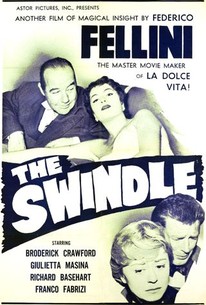 Il bidone
1955, Drama, 1h 40m
8 Reviews
1,000+ Ratings
Where to watch
In Theaters
Rent
Rate And Review
Movie Info
Tired of impersonating priests, three small-time swindlers (Broderick Crawford, Richard Basehart, Franco Fabrizi) go their separate ways.
Audience Reviews for Il bidone
This forgotten Fellini classic - which was initially a flop in Italy and also in the USA - is a poignant and heartbreaking character study that manages to make us feel pity and sympathy towards the worst kind of swindler, the one who deceives and takes money from the poor.

One of Fellini's least remembered films, "Il Bidone" is a wobbly tale about three con men who pursue some truly appalling schemes to bilk peasants out of their slim savings. Augusto (Broderick Crawford) feels uneasy about still scrambling for small-time games at his advanced age, and has a soft spot for a teen daughter whom he rarely sees. "Picasso" (Richard Basehart) has a good wife (the always wonderful Giulietta Masina) and dreams of becoming a painter, but is not as talented as he thinks. And Roberto (Franco Fabrizi) hopes to become a singer like his idol Johnny Ray. Their shenanigans include selling phony apartment reservations to slum-dwellers, exchanging shoddy coats for gas and an elaborate scheme which involves posing as priests and planting a worthless buried treasure on someone's property. Essentially, they pull the typical move of exploiting others' greed, and getting them to hand over money based on false promises of a bigger payoff later. The three are on shaky ground, however, and even their underworld peers don't always respect them. This is memorably shown in a scene at a richer criminal's posh party, where Roberto breaks rank to swipe a gold cigarette case and gets his whole group ostracized as a result. This incident somewhat foreshadows the film's depressing climax, where Augusto faces what could be his ultimate crisis of conscience. The script poorly wraps up its dangling threads, casually dropping Picasso and and Roberto from the story before the final act. And yes, Nino Rota composed the score as usual, but it's fairly humdrum beyond the opening theme. For an early Fellini film about regional seediness, you're better off choosing "Nights of Cabiria" or "I Vitelloni."

don't feel like writing about it.
See Details