Kill Theory
(2009)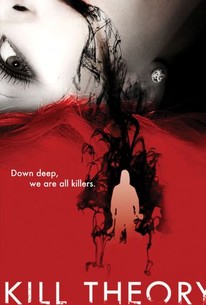 AUDIENCE SCORE
Critic Consensus: No consensus yet.
Movie Info
Un viaje de graduación se convierte en una pesadilla cuando estudiantes deben ser parte de un juego mortal impuesto por un psicópata. Don McManus, Ryanne Duzich, Teddy Dunn, Agnes Bruckner. Dirigida por Chris Moore.
Critic Reviews for Kill Theory
There are no critic reviews yet for Kill Theory. Keep checking Rotten Tomatoes for updates!
Audience Reviews for Kill Theory
If you go in with zero expectations, then you will enjoy this movie. Acting is solid, characters are believable and nothing outrageous happens that would make you say "You've got to be kidding?!" And there is a small twist at the end.
Cynthia S.
Super Reviewer
It was pretty bad actually...not that it's surprising or anything. The whole thing was like a bad "Saw" imitation. The plot was so unoriginal. A bunch of teens stuck in a "game" where they have to kill each other to survive. Most of the actors are pretty lame. Most of the movie is them screaming and cussing at each other. I can scream and cuss too! Except when I do it, it's probably more interesting. There was a good or somewhat good twist at the end though and that's where the 40% came in. In the beginning we see the killer talking with his psychologist or doctor or whatever. Apparently, the killer was in a mountain climbing accident and had to kill his three friends in order to survive. The psychologist tells him that no one else would've made that choice and that is why the killer has to keep seeing the doctor. The accusation the psychologist made is what sparks the killer's experiment with the kids. The whole experiment like I said was stupid and unoriginal. But at the end, we see that the experiment was performed on the psychologist's son. The son was the one who started killing everyone in order to survive. I thought that was a nice twist. Especially since there were little hints in the storyline like when one of the friends of the son said "you talk about the killer like you know him!" Well obviously the son knew something about the killer, since his father worked with him. I thought it was clever. Anyway, this review is probably confusing for those that haven't seen it and for that I apologize. I didn't feel like summarizing the entire movie then explaining it. It's a bad movie, so skip it.
½
Unlikable characters act in predictable, unrealistic, unlikable ways. The "deadly game" holds no suspense, no surprises, and a pointless antagonist.
Kill Theory Quotes
There are no approved quotes yet for this movie.